KISS ME WINE YOU CAN
The French Kiss Club offers delicious wine in a can sourced from premium French grapes.
Our white wine, rosé wine, bubbly white and bubbly rosé are perfectly balanced to embrace your tongue and refresh your mind.
Order here and get your wine delivered right at your door!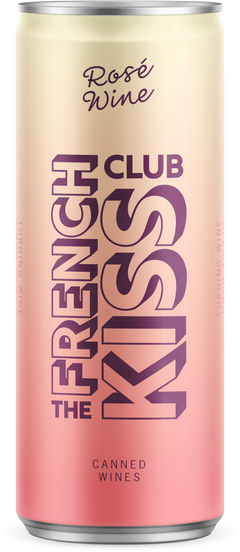 GET YOUR FAVORITE FRENCH KISS
CANNED WHY(NE)?
DELICIOUS

Our 250ml cans are small enough to keep your wine chilled & large enough to hide two glasses.

SUSTAINABLE

We all need to take care of our planet, our cans are made out of recyclable aluminium and should be sorted as such. 

ON-THE-GO

No need to pack a bottle opener & no risk of shattered glass. on-the-go, just like you
WELCOME TO THE CLUB
We are here for the dreamers, fun seekers, the ones who live in the moment & those who want to create memories to cherish.
It is our mission to provide you with great products that make you stand out.
Get a french kiss, not an 'xo'
LET'S TALK ABOUT WINE
Get ready to raise your festival vibes to a whole new level with The French Kiss Club

 

The ready-to-drink (RTD) market is booming, and canned wine is a big part of it.

When organising an event where experience is central, you don't want to let your team hassle with drinks. Let's take a closer look at the main added value of using cans.
"NEVER HAD A FRENCH KISS SO FRESH"

"Best rosé for warm summer nights chilling with friends :) all you need this summer !"

"Wine in a can is surprisingly tasty and very convenient :)."

"Never thought wine in a can would be this good!"